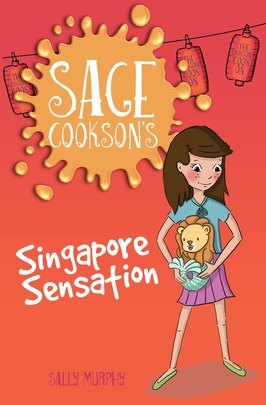 DOWNLOAD COVER
Sage Cookson's Singapore Sensation
AUTHOR

: Sally Murphy
ILLUSTRATOR

: Celeste Hulme
Sage Cookson's Singapore Sensation 4

Sage embarks on an exciting new venture in Singapore. Her TV chef parents are recognised wherever they go. Posters advertise their upcoming cookbook and the inflight magazine has a big story on the Cooksons. But when a lady with pink hair begins following them things go horribly wrong.

Sage Cookson is a ten-year-old with a pretty different lifestyle. Her parents are television chefs with, unsurprisingly, a passion for food. They spend a lot of their time travelling Australia and the world sampling the food, learning new cooking techniques and then sharing their new knowledge with their massive television audience. For Sage, this means she gets to embark on adventurous travels with her parent for much of the time.
AGE :

7 - 12 years
RELEASE DATE :

1st May 2017
Paperback
ISBN

: 978-1-925059-56-0
PRICE

: $12.99
Buy Now