Alex G Griffiths Illustrates The Bug Collector and Talks to Us About the Book
May 13th, 2019
Watch Alex G Griffiths illustrate a scene from his debut book as both author and illustrator The Bug Collector. Alex also answers a few questions about working on the book, his background as a graphic designer and some exciting upcoming projects.


1. How did you find the experience of writing a book as well as illustrating?
It was certainly very challenging as this was my first time as both author and illustrator. My background is from graphic design so I am much more experienced in the visual side of story telling. Once I had the idea for the story I found it natural to then create the characters and the environments they live in, but developing the idea into a finished story was much more difficult for me. Having the help and support of the editors was so important to get everything just right.


2. Were you aiming to convey any particular messages or themes with The Bug Collector?
To start with I just wanted to create a story about a boy having an adventure, the theme of the insect collecting coming from my own childhood memories with my grandad in our garden. The main theme I wanted to show was the interaction between the boy and the bugs he finds, and also his relationship with his grandad. As the story evolved and took shape it became more clear that it would be a nice way to introduce the idea of wildlife conservation and creatures needing their freedom. At the time I was working on the book it was a subject that was being mentioned frequently in the media, so it definitely felt relevant.


3. Have you always wanted to write and illustrate children's books?
Actually this has been quite a recent thing for me. At first I wanted to be a graphic designer, so that's what I studied for and what I've spent the last 10 years doing. I've always loved drawing though and I was always doing it in my spare time. When I started putting my drawings online, someone mentioned to me that they would suit children's books, and that's when I began trying develop my style for this. The writing then came from wanting to illustrate a full picture book but not knowing how to find an author, so I decided to write one for myself.


4. What do you find most challenging about working on a book?
I guess I would say the most challenging thing is finding ways to apply my style to the different stories I work on. I would like readers to be able to recognise one of my books by the illustrations alone, so I try to to keep things fairly consistent. The characters and environments are often very different, so learning new techniques to help me achieve this is always a challenge, but something I love doing!


5. Is there anything exciting coming up that you can tell us about?
Yeah I've got a few projects coming up over the next year that I'm very excited about. I'm currently working on a really fun book for Little Brown Books about all sorts of funny animal facts, which is the second in a two part series. I finished the first book last year and it's due out this summer. After that I'm going to be working on a new book with Andersen Press, that will give a whole other perspective on the insect world! It's definitely going to be very challenging from an illustration perspective too. Then later in the year I'm going to be working on a book about F1 racing driver Ayrton Senna for the Little People BIG DREAMS series, which is totally different to anything I've worked on before. I was already a huge fan of the series so it was really an honour to be asked to be involved.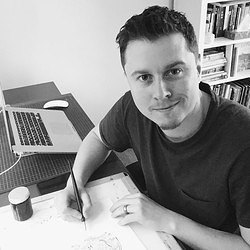 Alex G Griffiths is an illustrator and designer specialising in children's picture books and character design. The majority of his work is done by hand, using a combination of pen and ink line work and brush textures to create a natural illustration style. The Bug Collector is his debut picture book.
Buy The Bug Collector
---
Comments (0)
No comments have been submitted yet.
Why not be the first to send us your thoughts
Leave A Comment


Thank you for your comments, they will appear shortly once approved.