An Exclusive Interview with Journalist Extraordinaire Scoop McLaren
August 28th, 2019
We recently caught up with feisty detective editor, Scoop McLaren, and asked her all about her amazing life as a teenage newshound and mystery solver…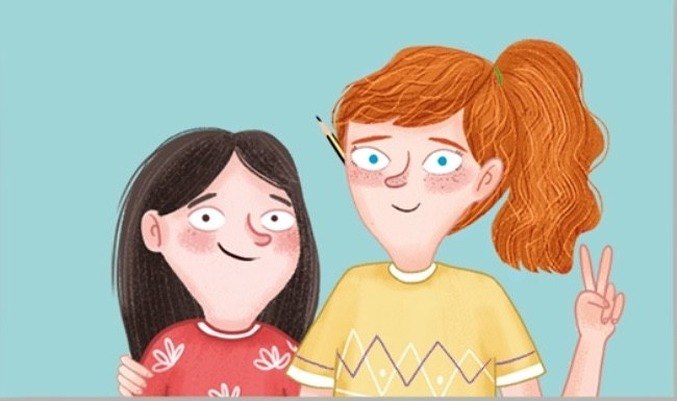 When did you first become interested in and reporting the news?

Well, I've been tagging along on stories and chasing leads with my Dad, Ted McLaren, who is the editor of the Higgity Harbour Gazette, since I could walk, so I guess you could say that I was born into the newspaper business. I've been writing stories since I was five and started up my own online newspaper, Click!, last year, just after I turned twelve. Dad taught me everything I know about being an investigative journalist, or as I like to say, a detective editor!

What's the best thing about being a detective editor?

Definitely helping people. I love out-scooping the big city newspapers and getting the news out to people before anyone else has the chance, but helping to solve someone's problem, when no one could, is the best part. It can also be exciting, following clues and gathering up evidence, plus I get to meet a lot of different and interesting people. I think it's the best job in the whole entire world.

What's the worst thing about being a detective editor?

Some of the places we have to go to in order to solve cases. A few months ago, while investigating a cattle theft, me and Evie got stuck in a muddy farm paddock! She had to phone her dad, Sergeant Andrews, who called in some of his police officers to get us out. That afternoon I went home in a police car, right when our neighbour, Mrs Bailey, was out front collecting her mail. A little embarrassing, to say the least!

Tell us a bit about your best friend and roving reporter, Evie Andrews?

Evie is incredible! She has a brown belt in karate and knows a lot about knots and outdoor survival skills because she's also a Girl Scout. But apart from all that, she's super-fun, kind and she works hard at her job as a newspaper reporter for Click! She cares about the news just as much as I do which is why we make an awesome team!

What do you like to do when you're not writing your newspaper and solving mysteries?

I like to hit the beach with Evie and do some surfing. I also love to read (Roald Dahl is my favourite author). I'm reading a fantastic book right now called How to Eat Fried Worms by Thomas Rockwell. It's fairly gross but so funny. My all-time favourite book is The Wind in the Willows by Kenneth Grahame. Dad used to read it to me when I was little. I love watching movies and I like cooking as well. That's one of my favourite things to do with Dad – muck around with recipes in the kitchen.

What's the most bizarre case you've cracked?

That's easy – the case of the missing monkey! Last year one of the prized monkeys at the Higgity Harbour Zoo escaped and I was called in to spread the news and help locate it. Evie and I set out on a mission to solve the case and after following a few leads (and a trail of monkey droppings!) we discovered the furry little fellow in Mrs Lumgarten's magnolia tree. It wasn't until council ranger Larry Perkins had climbed to the very top of the tree to rescue the monkey that he realised he was terrified of heights! Kenny Dixon (he's Dad's sports journalist) had to climb up the tree and rescue them both. Headline: Council ranger stuck monkeying around!

Are you working on any mysteries right now?

I really can't tell you as it might ruin the case, but what I can say is yes, we are working on a case at this very moment and it's a mystery unlike any other we've tackled before. It's big, so stay tuned!

How do you juggle your schoolwork and online newspaper?

My dad is very strict when it comes to my schoolwork and is always checking up to make sure that I've done all my homework before I start on my newspaper. I actually find that writing my newspaper helps with my schoolwork, especially when it comes to doing research and checking facts.

What is it like having thousands of readers from all over the country and beyond?

It's so cool! Thinking about how many people our news is reaching is amazing. That's why it's so important to work really hard and uncover the truth because our readers are counting on us to keep them properly informed. It's a really, super important job… and it's also fun too!

What advice would you give to anyone who would like to be a writer?

Just write! And don't give up. If you'd like to see your work published somewhere, see if they take submissions. But don't ever worry if it's not accepted the first time around. Just keep writing. The more you write, the better you'll become.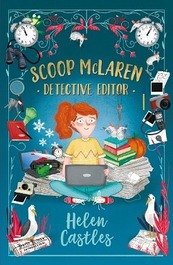 What do you do when an evil newspaper editor wreaks havoc in a quiet coastal town? Sonny Fink writes online news that is uploaded at one minute past midnight every night. The news is always frightfully awful and if Sonny writes it, it is bound to happen. Thirteen-year-old detective and reporter Scoop McLaren and her best friend Evie are set on a mission to uncover the identity of the evil Sonny Fink
buy the book
Tags:
castles
,
detective
,
editor
,
Helen
,
interview
,
reading
,
scoop
---
Comments (5)
Shona
- November 6th, 2019 9:24pm
I love it when
folks come together and share thoughts.
Great site, continue the good work!
Reply
---
Corey
- November 27th, 2019 3:25am
I couldn?t refrain from commenting. Exceptionally well
written!
Reply
---
Cory
- December 19th, 2019 3:44am
There is definately a lot to learn about
this topic. I really like all of the points
you?ve made.
Reply
---
Jayme
- January 15th, 2020 10:48am
Howdy! This article could not be written any better!
Going through this post reminds me of my previous
roommate! He constantly kept preaching about this
Reply
---
Starla
- January 24th, 2020 11:15pm
Thank you for the auspicious writeup. It in fact was a amusement account it.
Reply
Leave A Comment


Thank you for your comments, they will appear shortly once approved.