Getting to know Mandy Stanley
December 17th, 2019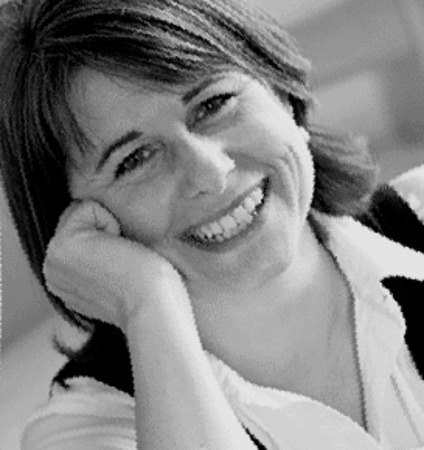 We asked illustrated illustrator Mandy Stanley about her work and life for the release of the first two board books in her latest series Gregory Goose is on the Loose!.
When did you decide you wanted to become an illustrator, what prompted this?

During the time I was working as a children's clothing designer, I often used children's books as inspiration for collection themes etc. Over time, I realised that I was fascinated by the books more than the clothing so I decided to try and write and illustrate a children's book of my own.

What was your favourite childhood book?

Story Land - a compendium of 48 classic Golden Book titles. I loved everything about this enormous book. The illustrations have stayed in my mind ever since it was given to me by my Grandma when I was around the age of three years. I particularly like the botanical style title font.

If you could tell your younger self any advice, what would it be?

Maybe to have been a little less shy. I was a very quiet child and probably missed out on valuable experiences. I loved the idea of acting and being involved in school plays and shows but I was simply too shy to put myself forward.

How did you come up with the characters for the book?

Gregory Goose is our central character for this series. He is always 'on the loose' so this suggested to me that he was a bold adventurer and maybe at times a little bit wayward and headstrong! Also, I wanted to reflect Gregory's energy and sense of fun so I chose a vibrant colour palette and developed an art style that was lively and clear.

How has your background and location shaped your work?

My background in fashion and textiles shapes my work daily in that I am always aware of current trends in design. This informs the use of interesting colour palettes and graphic styles.

My location is the coastal countryside of Suffolk. From time to time, I find myself illustrating wildflowers, birds trees etc. that we see regularly on walks in the forest and at the beach.

Are there any people who you think have helped or inspired you to improve as an illustrator?

I am always inspired by other illustrators work aesthetically and I think this is absorbed subliminally but I think in general, my work improves significantly by learning new techniques from watching online webinars/tutorials by expert technicians in the software programmes that I use. In particular Adobe Creative Cloud and Procreate for iPad.

What is your working process?

There are no hard and fast rules in my working process. Every project is unique and I almost have to 'feel' my way rather than have a particular process. However, I do so spend a certain amount of time just playing around with art styles and characterisation at the beginning of every new work. I use this time to experiment and find out what works and importantly what doesn't. Roughs are generally worked out on my iPad using an Apple pencil. I then use my iMac to work up the drawings to a more finished state using a Wacom tablet and pen. Once I have my character decided, I then find creating environment and composition quite a smooth process.

If you didn't illustrate, what would you do instead?

I would probably be a chef, a jazz musician or costume designer.

What's been your favourite feedback?

Receiving hand-written, illustrated letters from children in which they tell me what they like about my books is always wonderful.

Finally, give us a fun fact about yourself that nobody knows!

I was auditioned to be on The Great British Bake Off tv show and met the contestant who then went on to become the winner!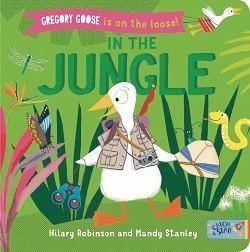 Gregory Goose is on the Loose! In the Jungle
AUTHOR : Hilary Robinson
ILLUSTRATOR : Mandy Stanley
Gregory Goose is going on Safari. Can you find him?
find out more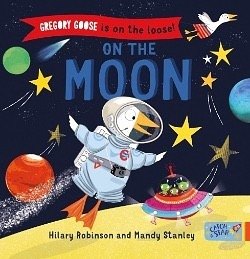 Gregory Goose is on the Loose! On the Moon
AUTHOR : Hilary Robinson
ILLUSTRATOR : Mandy Stanley
Gregory Goose is heading into space. Can You find him?
find out more
---
Comments (0)
No comments have been submitted yet.
Why not be the first to send us your thoughts
Leave A Comment


Thank you for your comments, they will appear shortly once approved.