Giuseppe Poli celebrates the release of his first picture book
April 7th, 2014
Giuseppe Poli has been drawing since he was a young child. He studied children's book illustration under Philip Blythe at Arts Academy Queensland.Hootie the Cutie is his first book.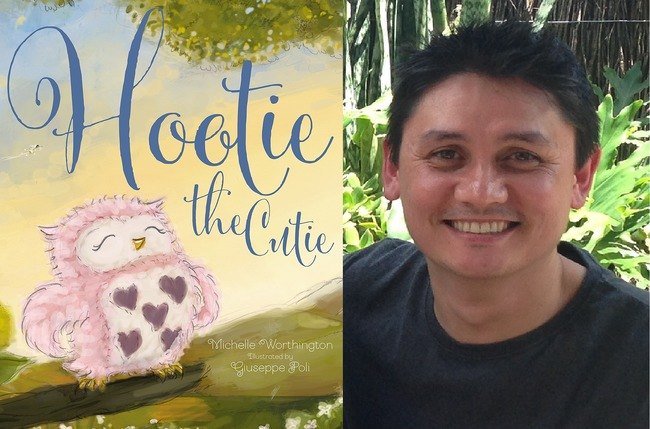 Have you always wanted to be a children's book illustrator?
No and yet I'm so excited to have be one today! As a child I always liked creating and drawing, and I was so inspired by games that I started making my own versions of them. For many years I had so much fun seeing others enjoy playing my games. Maybe I should have gone straight to Art college after school but instead I travelled a long journey elsewhere which provided some amazing experiences and wonderful memories. All this time though, the creative urge never left me and there were a long number of years where I struggled to find a creative career that suited me. Whilst exploring what it was that I really liked, I realised that it wasn't just art or film or animation that I was chasing; I realised I loved creating amazing experiences for people. The kind of feeling you get when you've made dinner for someone and you just can't wait for them to enjoy it – that's the buzz that I love. Except for me, I make pictures and it's through my art that hopefully I'll make people feel something wonderful. One day I'll get good at making stories too.
The first big lead into Children's picture books came when my wife saw an article on Philip Blythe and the Arts Academy Queensland course on Children's book illustration. I enrolled and learnt a tremendous amount from Philip and it was the first real exploration of story and art and how the two came together. Children's picture books can offer such wonderful experiences. The memories you have as a child, the stories you can enjoy and the reading and acting out between adult and child. It's so cool to be making something timeless that people can share and enjoy and I can't wait to create more Children's picture books.
How did you secure a publishing contract for Hootie the Cutie?
All thanks to Peter Carnavas, Sofia Whitfield and a little owl! I attended a Children's Book course where Peter Carnavas was presenting and after lots of questions and showing him some story layouts I had drafted, Peter offered to send my details and some of my artwork to his publisher Sophia Whitfield at New Frontier. I was so thankful but was happy to accept that nothing may come of it. A number of months later, Sophia contacted me and mentioned she liked a little owl I had painted and it all went from there. It was an incredible moment for me reading Sophia's first email to me – almost like time stopped – and still to this day I feel so fortunate.
Tell us about your technique?
I've always never really finished my pencil work. I just love the looseness of the sketchy lines. I've pursued a more finished, clean line work and found that I keep returning to my original free flow pencil work. I love working with watercolours and acrylic inks, watching the colours mix and pool and dry into wonderful shapes on the paper. My artist career has a long way to go and I've got a lot of technique I'd like to explore. Until I master the wilds of natural media, for now, to help me get to the desired experience I'm aiming for, I scan it all into my computer and push things further digitally. It's a fair bit of work but I'm so proud of the results. I can't wait to explore more using these tools.
Which illustrators do you draw inspiration from?
Lots, but there are some big ones that capture me and really help me feel confident that I don't have to be someone else to be successful, I can just be me. These are:
Peter Carnavas – I have learnt and am still learning so much from Peter. He has been a mentor to me, so generous with his time, talent and experiences and I'm always inspired following him and how is career is flourishing. Books and career aside, Peter's book launches are also an inspiration unto themselves.
Stephen Michael King, Quentin Blake – for their delicious free flowing line work and splodges of colour.
Anna Walker – her colour and simplicity is just beautiful
Freya Blackwood, Emily Gravett – love their linework, such wonderful movement
Gus Gordon – the collage and mix of materials, the characters – so expressive and delicious.
Oliver Jeffers – bold and simple – love how some of his images are simple yet have so much charm.
Shaun Tan – wow, can I have just a spoonful of the talent he has please? His artwork and what he's achieved is so inspirational for me.
How will you be celebrating the release of your first picture book?
I live a pretty full life with a wonderful young family so celebrations are likely to be fairly low key….probably just involving a few glasses of champagne and a good takeaway meal! My kids are very excited and so we've already arranged for me to do a reading at my son's Prep class. I guess, the best thing is that I'll be celebrating many many more times to come! Every time I see people reading the book and sharing the moment with someone dear, I'll feel so amazing to have helped create that wonderful experience.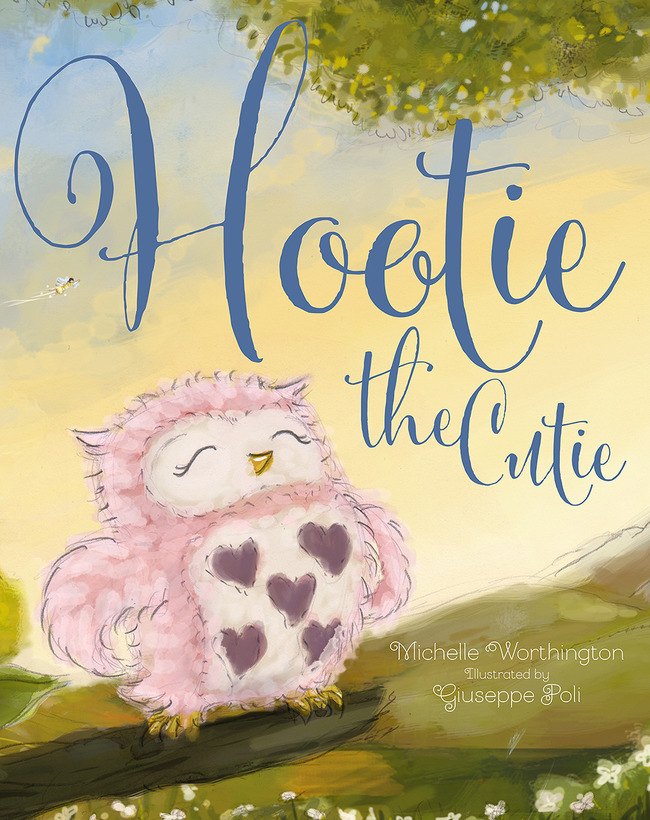 Hootie the Cutie
is out now, published by New Frontier Publishing, $24.99.
---
Comments (0)
No comments have been submitted yet.
Why not be the first to send us your thoughts
Leave A Comment


Thank you for your comments, they will appear shortly once approved.