Heather Gallagher on the inspiration for writing her new title Scaredy Cat and more!
May 28th, 2018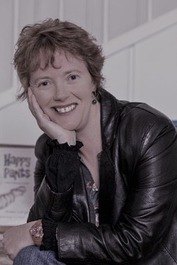 Interview with author Heather Gallagher on her new title: Scaredy Cat
When did you know that you wanted to write children's books?
I loved books from a very early age and have fond memories of my Dad reading to me. I started writing stories quite young because I wanted to be the star of my own adventure. Then in Grade 4, when one of my stories was read out to the class and everyone loved it, I knew. There was nothing like the thrill of having people enjoy what I'd written, especially when I'd had so much fun writing it. This is still a big motivator for me.
How would you describe your writing style?
Funny and irreverent.
What was the inspiration behind the story of Scaredy Cat?
My dog Pip inspired Scaredy Cat. Unfortunately, he suffers from quite serious anxiety. We even had to go to the vet for an anxiety assessment. Mostly he's scared of other dogs, but he's also scared of loud noises (especially the vacuum cleaner) and men who are strangers.I came up with the story idea while I was walking Pip on the beach. He was looking out for other dogs and walking behind me with his nose in the back of my knee. I said "Pip, you're such a Scaredy Cat!" and then the key phrase "afraid of this and afraid of that" came to me. After that, every time we walked I'd be playing with the rhymes in my head and scribble them down when I got home.
Do you have any pets of your own?
Yes, Pip.
If you could use three words to describe Scaredy Cat what would they be?
Funny, lovable, heartfelt.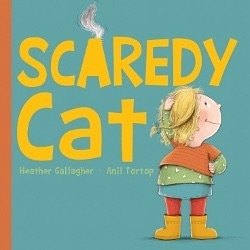 Scaredy Cat
Written by Heather Gallagher
Illustrated by Anil Tortop
A little girl shows how far she will go to protect her four-legged friend.
Age range: 3 – 6 years
find out more
---
Comments (3)
Earlene
- May 29th, 2018 5:37pm
In fact no matter if someone doesn't understand after that its
up to other people that they will help, so here it happens.
Reply
---
Ralph
- May 30th, 2018 4:06am
I do consider all the concepts you have presented to your post.
They're very convincing and will certainly work.
Still, the posts are too quick for newbies. Could you please
prolong them a bit from subsequent time? Thank you for the
post.
Reply
---
Adelaide
- May 30th, 2018 10:33am
Do you have any video of that? I'd want to find out more
details.
Reply
Leave A Comment


Thank you for your comments, they will appear shortly once approved.