Interview with Author Brenda Gurr
March 2nd, 2020
When did you decide you wanted to become an author, what prompted this?

Like many authors, my passion for writing began when I was a young child. I liked to write because I was very quiet and it was my way of expressing myself. It still is!
What was your favourite childhood book?

I really loved When Hitler Stole Pink Rabbit by Judith Kerr. I found the main character's experiences as a child refugee so fascinating and so far removed from my own life. It was my first education into how Jewish people were treated during World War II. Brilliant writing for children.

If you could give your younger self any advice, what would it be?

Don't be so worried about looking foolish. Be bold. You are valuable and your voice deserves to be heard.

How did you come up with the idea for the series?

I wanted to write a spy series with a twist. The idea was to have a main character who uses a secret identity to run a successful business. I love baking, so I decided on a talented young cake maker who has to bake and deliver her cakes without anybody realising what she is up to.

How has your background and location shaped your work?

I have a background in drama and acting and I think this has really helped me to hear dialogue in my head before I write it. In terms of location, the beauty of the nature surrounding my country home inspires me to think carefully about different ways to use outdoor scenes in my writing.

Are there any people who you think have helped or inspired you to improve as a writer?

Yes! The tutor of my very first writing course, author and writing teacher Marg McAlister, was the first person to assess my writing and give me hope that this was something I could do.

What is your working process?

I always begin a new story by scribbling down initial thoughts using pen and paper. Staying away from a computer somehow helps to free me up, encouraging my creativity. When I've finished scribbling, I handwrite the end of the story. Endings are so tricky and I like to establish them first. Then I work on the rest of the plot and the characters. I love using Scrivener at this stage—it makes me feel very professional!

If you didn't write, what would you do instead?

I would be the principal dancer in a ballet company, a spy or an archaeologist.

What's been your favourite feedback?

The illustrator Hélène Magisson told me that my picture book was charming and that the two main characters were endearing. I was grateful for such lovely words.

Finally, give us a fun fact about yourself!

Through recent family history research, I have discovered that I am a 13th great-niece of Henry VIII.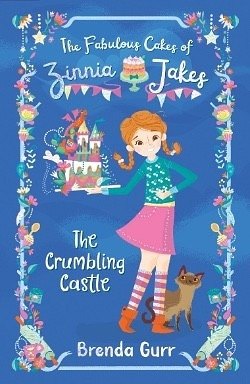 The Fabulous Cakes of Zinnia Jakes: The Crumbling Castle
AUTHOR : Brenda Gurr
ILLUSTRATOR : Nancy Leschnikoff
When Zinnia Jakes gets a new pastry order for a special medieval crumbling cake, she has no idea where to start! It needs to be ready in less than a day for the school fair and the clock is ticking. Will she deliver it on time and remain the undercover secret pastry chef everyone talks about?
find out more
Tags:
inspiration
,
interview
,
reading
---
Comments (1)
Diane Palmer
- March 9th, 2020 1:13am
Thoroughly enjoyed your story of where you are today and what you have achieved.
Reply
Leave A Comment

Thank you for your comments, they will appear shortly once approved.