Interview with Author Rosalyn Albert
December 17th, 2019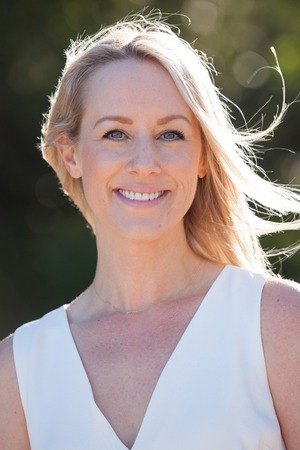 We asked Rosalyn a few questions about her life and work with the release of the first two board books in her latest series Let's Go! out now.
When did you decide you wanted to become an author, what prompted this?

I have a vivid memory of being in my last year of primary school and completely filling up one of those A5 lined exercise books with a story about my dog. It probably bored my poor teacher to tears having to read the whole thing, but I remember feeling very proud of the story at the time, and I've enjoyed writing ever since. Fast forward almost 30 years and I finally got around to submitting a manuscript!

What was your favourite childhood book?

A picture book called Alpaca by Rosemary Billam. It is so beautifully written and I still have the original copy from my childhood which I read to my daughter. I still well up at the end when I read it!

If you could tell your younger self any advice, what would it be?

Worry less – everything will work out as it's meant to. And don't overpluck your eyebrows!

How did you come up with the idea for the books?

I was on maternity leave with my second daughter, and I often make up silly songs and rhymes when I'm at home with the kids. I remember one day we were preparing to go on a trip to the UK and I started making up a rhyme about an aeroplane. After a few verses, I thought it was quite sweet, so I wrote it down. I decided to write another one, and before I knew it, I had written six!

How has your background and location shaped your work?

The Let's Go! series is about adventure and discovery through the eyes of younger children. Each book is a different adventure on a particular mode of transport, such as a rocket, a ferry, a tractor etc.

I suppose I've always been someone who has actively sought out new experiences, having lived in multiple countries, worked in many different jobs and found myself in some very bizarre situations! My hope for these books is that they inspire young readers to embrace new adventures and experiences as well.

In terms of my location, I'm from the UK but currently based in Sydney, so travel is never far from my mind, as I'm always planning my next trip home to visit family. My four year old daughter has made the trip across the world at least seven times already, so perhaps subconsciously I'm trying to make my own kids enjoy travelling! I'm not sure that the ferry book would have been as easily written if I didn't live next to the Sydney harbour either.

Are there any people who you think have helped or inspired you to improve as a writer?

Since becoming a member of Writing NSW I've been on a few children's writing courses and have had a couple of manuscript assessments. It's great to get direct feedback on how to improve your work from people other than your family and friends. The courses have been incredibly helpful in learning the craft of writing for children, as there is a lot to consider if you are thinking of submitting your work. Mem Fox has a fantastic blog on her website filled with useful tips as well. There is so much that you can teach yourself online. I have also learnt a lot from iterating my own work. It can always be improved, no matter how good you think it is!

For me, the inspiration comes from reading to my children every night. I've been surprised at how as an adult I can still be emotionally affected by a great picture book. You know it's a good one when you get to the last line and you have a lump in your throat! Or is that just me?!

What is your working process?

I don't really have a specific process because I have two young children, so it's all about squeezing in a few hours here and there to write! I generally like to be alone with my laptop and a cup of tea, and to be able to read aloud what I am writing which is so important, because words and rhythm can sound very different in your head. I keep a list of ideas, and often it can be something as small as a title. Sometimes, the first few lines will just come to me out of nowhere, so I'll just go with it, other times, I'll write the storyline out on paper and list the things that should happen or be included. For me, writing is an outlet and something I enjoy and find relaxing, so it is not something I'm too formal about. It's a wonderful feeling when you have those moments of flow and create something you are happy with.

If you didn't write, what would you do instead?

Well, writing is certainly not how I make my living (although we can all dream!). By day I work in healthcare marketing, which is rewarding in a very different way. I'm also very busy being a mum!
What's been your favourite feedback?

I know it's cheesy, but it has to be from my two year old! She loves the rocket book and is always picking it up to read at bedtime, "Wokit, mummy? Wokit?" That's been pretty amazing!

Finally, give us a fun fact about yourself that nobody knows!

I can wiggle my ears.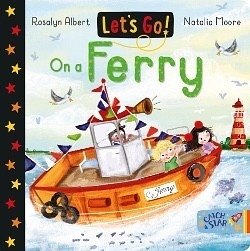 Let's Go! On a Ferry
AUTHOR : Rosalyn Albert
ILLUSTRATOR : Natalia Moore
Two friends enjoy an afternoon in the sun aboard a ferry.
find out more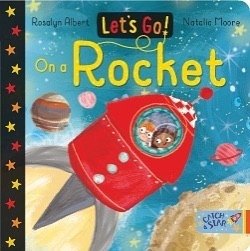 Let's Go! On a Rocket
AUTHOR : Rosalyn Albert
ILLUSTRATOR : Natalia Moore
Two friends enjoy an adventure on a rocket as they head into space.
find out more
---
Comments (1)
Joseph Loewy
- February 26th, 2020 6:32am
Always interesting to read how people do things and juggle inner demands with outer ones. Good luck with your books, I'll keep an eye out for them
Reply
Leave A Comment


Thank you for your comments, they will appear shortly once approved.