Interview with Cori Brooke
October 30th, 2019
When did you decide you wanted to become an author, what prompted this?

I remember when I was around 10 years old, I wanted to be an author but I also wanted to be an artist. I did do a lot of creative writing and had lots of ideas, but I probably concentrated more on visual arts when I was young. Fast forward to when I was around 31 and at home on maternity leave with a newborn baby who only ever wanted to sleep on me during the day. I was very bored so I started to tap out stories, one handed, on a little laptop. I knew nothing about publishing or author etiquette and I submitted my first manuscript in an unconventional way to a publisher. And the rest is history!


What was your favourite childhood book?

Anne of Green Gables. I was obsessed with the entire L.M. Montgomery library of books. I read and re-read them. I loved the world of characters she crafted.

If you could tell your younger self any advice, what would it be?

I would tell myself you don't need to have it all figured out by the end of school and I would explain how the journey of our lives is fluid and organic. But, because I was stubborn, I probably would not have listened!

I would also pat myself on the back for knowing I would never use any of the maths I 'learned' past grade 3. I was a difficult math student and would often ask my teachers 'why do I need to know this?'. I was horrible at math. But my lack of math skills didn't stop me from succeeding in life.

How did you come up with the story for the book?

The original manuscript for Twelve Days of Kindness was very different from the final published book. It was pretty existential and it involved an elderly woman giving a young girl a mysterious box of kindness! But the overarching concept of kindness was inspired by the Trump presidency and all it has brought – and so the overarching concept has not changed from the original manuscript to now. I was really concerned and saddened about the news coming out of the USA. I was upset hearing about how kids of different ethnicities were being treated in American schools.

How has your background and location shaped your work?

I had a very unconventional childhood and upbringing and I suppose I have always just thrown myself into things thinking I can do anything. My generally ballsy approach has helped me as an author. In terms of writing, I am from a legal background and I like to think in structure, so I like to structure my writing in a certain way. In terms of how my location has shaped my work, I was born in Canada but have lived in Australia for many years. I consider myself both Australian and Canadian, and I am in fact dual citizen. But I suppose the clearest example of how my location has shaped my work is with All I Want for Christmas is Rain. New Frontier suggested I write a Christmas themed book, but I certainly didn't want to write a presents/Santa typical story. I wanted the book to be authentically Australian, not about presents/commercial Christmas and I wanted it to be about family. I am a news junkie and I knew about all of the drought issues at the time (it was written around 2015) and I wanted to do something for all of the families affected by the drought. And so, All I Want for Christmas is Rain was born.

I am also a very realistic person and so, with every book published, I always think 'this could be my last book'! I think it helps me to enjoy the moment more.

Are there any people who you think have helped or inspired you to improve as a writer?

I don't tend to read a lot of contemporary children's picture books because I want to keep my own voice and I don't want to be influenced by other writers. I am probably not considered a 'writer's writer' – I sadly don't have enough time to get to events voluntarily, however, I always go to events if asked. I have been fortunate to work with Sophia Whitfield at New Frontier on 3 of my books and I feel she has helped me to improve as a writer.

I once read a piece of advice which has always stuck with me: eliminate the word 'that'. I despise the word 'that' and I always try not to use it. I also think working in government has in a weird way helped my writing because we try to write in active, plain English.

What is your working process?


It starts out messy! And I never know when I'll get an idea. I have a notebook I handwrite my first messy drafts in. The first drafts of Fearless with Dad, All I Want for Christmas is Rain and Twelve Days of Kindness are all in the notebook, so it is a special book for me. After I have an idea of a first draft, I then type up a clean copy on my laptop. I'll leave it a few days and then return to the draft and edit. I edit until I am happy and then I submit to publishers. I once read a famous children's book author state categorically that every picture book should take one year to write – I respectfully disagree with this. For example, the first draft All I Want for Christmas is Rain was written very quickly (in around 3 hours) because it just flowed.

If you didn't write, what would you do instead?

I work full time for the government because being an author doesn't pay the bills! But if I didn't have writing as an outlet, I would probably draw and paint (I wanted to go to art school when I was a teenager).

What's been your favourite feedback?


Easy question! All of the feedback I have gotten from farmers for All I Want for Christmas is Rain. I received some amazing emails and letters which have had me in tears. I'm really happy so many farmers loved the book.


More recently a little boy at a school visit said 'you're crazy!' which made me laugh. It confirmed I am on the right track with my school visits!

Finally, give us a fun fact about yourself that nobody knows!

I achieved the highest grade in the history of my junior high school in Latin; I got 98% overall. I also took Latin 11 in grade 10, which freed me up for an elective in grade 11 (so of course, I took an extra art elective). Latin wasn't commonly taught in Canada, it just so happened my junior high school had a Latin teacher.


I just realised Latin achievements might not be a fun fact! This might be more fun: when I was 16 I created a diversion in a music store (remember those?!) in Vancouver and broke past a security guard in order to get down an escalator to get to Chris Isaak (he was meeting fans but only a limited number). I got his autograph!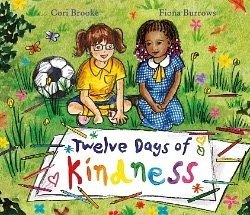 Twelve Days of Kindness
One little girl realises that the new girl in her class is struggling to make friends. With the help of their football coach they come up with a plan. Can their school football team bring them together, and expand their friendship group?
find out more
---
Comments (2)
rardlielf
- November 2nd, 2019 3:51pm
hi :) bross :)
Reply
---
rardlielf
- November 7th, 2019 6:59am
hi :) bross :)
Reply
Leave A Comment


Thank you for your comments, they will appear shortly once approved.