Joanna Francis and The Literature Centre
July 15th, 2019
The Literature centre has had Lucia and Lawrence by Joanna Francis on exhibition for two terms over the last year. We asked Jenny Botje, Senior Education Officer at The Literature Centre, about her work and the reception to Joanna's book.
I am one of four Education Officers at The Literature Centre (previously known as The Fremantle Children's Literature Centre). We are experienced teachers who present literature and writing workshops to Pre-Primary, Primary, Secondary and Tertiary students at The Literature Centre and at schools. We also present and organise Professional Learning for teachers, including our annual Celebrate Reading National Conference.
I was a Primary teacher for the Department of Education in WA for 30 years. Picture books, in particular, have always appealed to me, both as a teacher and a mum. I was made aware of The Fremantle Children's Literature Centre in the mid 1990s by two of my close friends. I then organised an incursion by FCLC at the Goldfields Primary School I was teaching, where the artwork from two picture books was brought to the school and sessions presented to all of the classes in the school. Several years later when we moved to Perth, I took my daughters to after-school sessions at the Centre and was then offered a part time job.
One of the main aims of The Literature Centre is to bring books alive for students. Our interactive workshops certainly achieve this. We often receive comments from teachers and parents who are surprised at the unexpected participation of some students - often those who are not generally competent at reading and writing and are rarely willing to contribute freely in class oral activities.

Each term we have the original artwork and process material of four Australian picture books on exhibition. As a general rule we require two junior primary picture books and two middle/upper and/or secondary picture books. Among the many things that we consider when we are choosing books for an exhibition, are the illustrations. We look for illustrations that elicit an emotional connection. The best picture books have a gap between the pictures and the words - a gap that can be filled by the students' imaginations. Often these books are also challenging in regards their subject matter. We look for picture books that encourage critical and creative thinking.
We are very grateful that authors and illustrators loan us as much of their process material as they can - drafts, reference material and photographs, anecdotal information, storyboard, dummy books, preliminary sketches and the original artwork.
The illustrations for each exhibition are set out in the same order as they appear in the book, with the process material underneath. The artwork and process material is displayed in mylar which is then attached to carpet boards at The Literature Centre. A small number of exhibitions are kept for an extended period so that we can take them to schools as Travelling Exhibitions. We currently have 36 of these.
Good quality children and young adult books are more important than ever in this digital world where reading a book is becoming more and more uncommon. There are many reasons why children's books are important: They cover complex concepts in a safe environment and they assist in the development of the mind, the imagination, self image, critical thinking to name a few.
A visit to The Literature Centre can open up a world of wonder and intrigue for students, teachers and parents. Witnessing the power of the illustrations in a picture book is something that takes people by surprise. We are often told by teachers and parents that they will never look at a picture book in the same way again. They will look much more closely at the illustrations in future.

I hope that The Literature Centre continues to foster Australian authors and illustrators and bring their concepts to life by conveying the processes to students and teachers and allowing them to understand this creative process.
We are very grateful to our generous Australian illustrators and authors who have supported us over the past 26 years, many of whom have loaned us their artwork and process material. We are proud to have had exhibitions of many of our Australian creators - some of whom have had many books published and others, like Joanna Francis, who are in their early years of their writing and/or illustrating career. We are also grateful to all who have supported us over this time - including publishers and teachers.
We loved having Lucia and Lawrence on exhibition for the two terms this year. We really enjoyed Joanna's first picture book which she both wrote and illustrated. We were taken with the delightful story of Lucia and Lawrence - two children who, despite their differences, become and remain friends. Joanna's illustrations lend themselves to many open-ended questions which we asked the students so that they could then piece together the story. Students enjoyed looking at Joanna's illustration process - specifically finding the examples of collage in her artwork.
To see more about The Literature Centre:
Jenny, and her colleague Sarah, shared this fabulous session they had with Year 3 students from Booragoon Primary School on Lucia and Lawrence by Joanna Francis and Moonwalkers by Mark Greenwood and Terry Denton.
Never have we wanted a 'beautiful egg sandwich' more than right now hearing about it!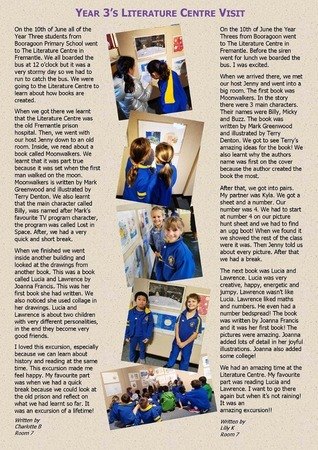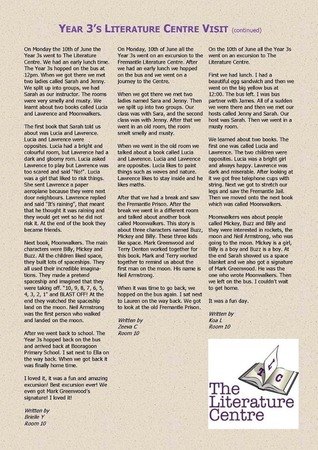 Just look at how up close and personal children could get to Joanna's original artwork...but no touching!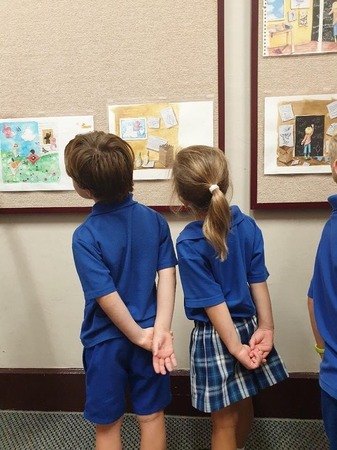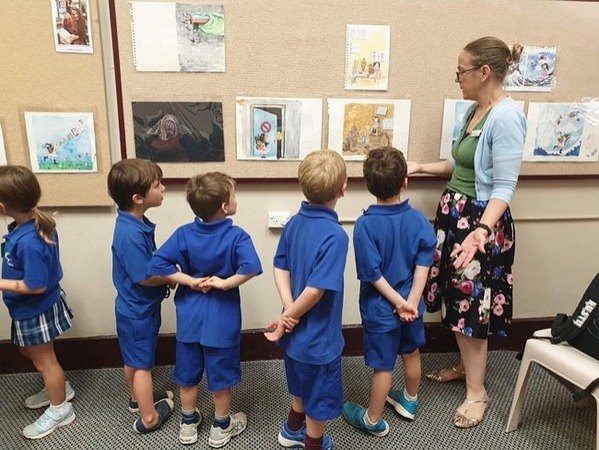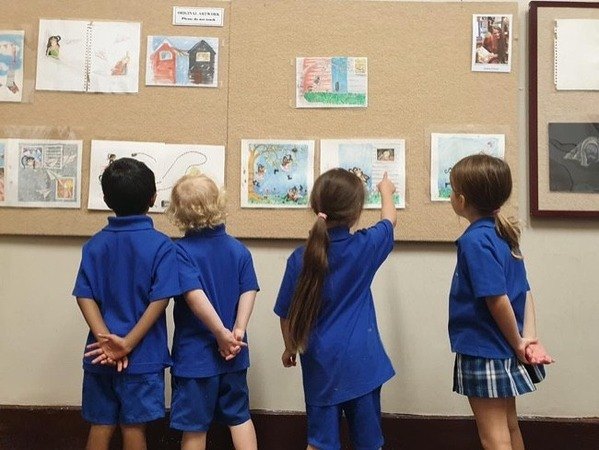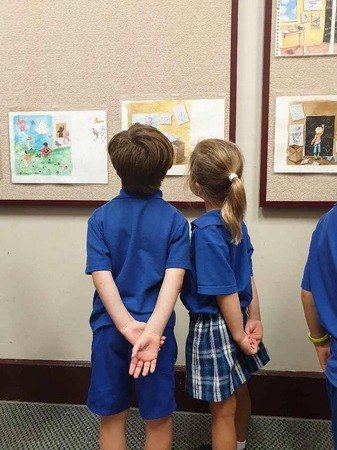 Tags:
2019
,
imagination
,
interview
,
Lucia and Lawrence
,
The Literature Centre
---
Comments (0)
No comments have been submitted yet.
Why not be the first to send us your thoughts
Leave A Comment


Thank you for your comments, they will appear shortly once approved.