Let's Go on an interview with author Rosalyn Albert
February 10th, 2021
Rosalyn Albert is the writer behind the wonderful Let's Go! series. Rosalyn grew up in Wales but now resides in Australia with her family.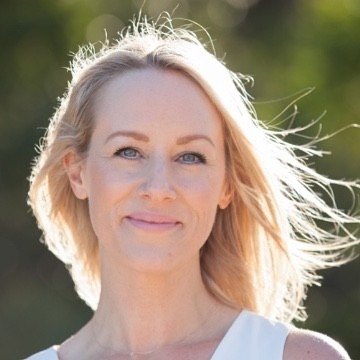 Tell us all about the Let's Go! series.

Let's Go! is a board book adventure series for little ones, featuring a different mode of transport in each book. When I wrote the series, I was trying to create something for the 1–3-year age group which went a little bit further in terms of the language and storylines one often comes across in board books. In each book the child is introduced to a few unusual words relating to that particular mode of transport. In fact, I was reading Let's Go! On A Ferry to my three-year-old the other day and she asked me what the word 'dock' meant. I've also tried to introduce very simple imagery because I don't think it's ever too early to instil a love of language in children. We sometimes underestimate what our children are capable of absorbing at this young age, but they really do take everything in! The illustrations are magical. Natalia has created the cutest set of characters who feature in each book, and if you have a few of the books you become familiar with them and see them getting up to different things. The characters have been praised by many book reviewers for their inclusiveness, as they feature a wide range of ethnicities, and they also have an extremely positive message for young girls, as it's often the female who is flying the plane, driving the train or being the captain of the ferry. It's wonderful that little girls will be exposed to these role models at such a young age and that this may help to break down the gender stereotyping of these traditionally masculine roles.


What was your original inspiration for the Let's Go! books?
I remember I was at home getting ready for a long flight from Sydney to London when my youngest was a baby, and I started making up a rhyme for her about going on an aeroplane. Suddenly I'd written the whole of Let's Go! On A Plane Then I had the idea to write the other books. I never imagined it would lead to this!


Which title has been your favourite to write so far?

Let's Go! On Plane will always be special to me, as that was the first one I wrote and it reminds me of my daughter. I also had a lot of fun writing Let's Go! On A Submarine which is yet to be released. It was lovely to write the underwater scenes and the illustrations are so vibrant.


Has your passion for travel inspired the Let's Go! series at all?

Absolutely. I mean, I don't have much experience with diggers or rockets or submarines, but as mentioned above, the plane was where it all began and that was due to yet another long-haul flight I was about to take. I couldn't have written Let's Go! On A Ferry without having lived in Auckland and Sydney, as the ferry is such a normal daily mode of transport here, and Let's Go! On A Train was certainly inspired by my many train adventures throughout Europe.


Where has been your favourite place to visit/live?

Every country I've lived in has been wonderful for different reasons, so it's very hard to choose. Berlin was an incredible place to live during my twenties, but these days with a family I really do appreciate living so close to the beach in Sydney. My top holiday destinations would have to be Fiji, Queenstown in NZ, Majorca and Disneyworld Florida!


What do you get up to in your spare time?

I have a corporate job and two little people, so I don't have a lot of spare time, but we go to the beach any opportunity we get. I also spend way more time than I would like at playgrounds!


What do your daughters think of your fabulous Let's Go! series?

They are very proud of 'mummy's books'. Sophie, my five-year-old has taken them to preschool for 'show and tell' and is always writing her own stories at home so they can 'go into the shops like mummy's', which is very cute. Mila, my three-year-old will often pull out the whole series at bedtime and ask me to read them to her which is lovely. She has named all of the characters and loves looking at the back page with the different books and colours. Each time we finish one she throws it on the floor!


What was your favourite childhood book?

A picture book called Alpaca by Rosemary Billam. It is so beautifully written, and I still have the original copy from my childhood which I read to my daughters. I still well up at the end when I read it!


Have you always wanted to be a children's writer?

I've always loved writing and half of my degree was in English literature. I had the usual dreams of writing a novel when I was younger, but I hadn't pursued children's writing until I wrote the Let's Go! books. Reading so many children's books to your own kids can spark the desire to write for children and it's a wonderful creative outlet.


Tell us an interesting fact about yourself!

When I was a lot younger, I once travelled by Eurostar from Naples to Rome without a ticket. I'd run out of money on holiday and needed to get back to Rome for my flight back to Berlin that day. I hid in the bathroom for the whole journey! Sorry Eurostar!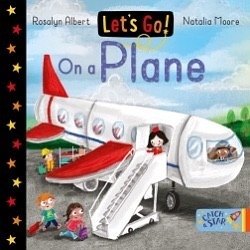 Let's Go! On a Plane
This new board book series Let's Go! features a mode of transport in each book.
Fun and engaging, perfect for toddlers and early learners as they begin the years of discovery.
Order Here
---
Comments (0)
No comments have been submitted yet.
Why not be the first to send us your thoughts
Leave A Comment


Thank you for your comments, they will appear shortly once approved.