Meet Nicole Prust Author of The Sloth and the Dinglewot
June 1st, 2020
We are excited to be releasing The Sloth and the Dinglewot by Nicole Prust and Amanda Enright. It's a vibrant, colourful tale about the joys of leaving your comfort zone and trying new things. Nicole has kindly answered some questions about the book, and her journey to becoming an author.

How did the idea for The Sloth and the Dinglewot come about?

There have been times in my life where I have really wanted to try something new but I found myself, like many others, fearing the unknown. Questions such as 'will I be any good at it?' and 'will I make a fool out of myself?' or 'I've tried something like this before and I hated it, won't this just be the same?' would fill my mind. Everyone has a comfort zone, a little bubble that they feel safe within, and for Samuel, his little brown hut in The Lazy Lagoon is just this. Sometimes it's hard to venture out of your comfort zone and try something new but that's where the Dinglewot comes in. I think everyone, whether you're a child or an adult, needs a Dinglewot in their lives. A Dinglewot is a figure in your life that gives you that little encouraging push to try something that you wanted to do but were too afraid to. I wanted Samuel to be a relatable character. I'm sure many of us can think of a time where we dreamed of doing something but felt anxious to take that first step.

As a primary school teacher, I feel that I am in such a privileged position. In your class, you learn about each individual's strengths, weaknesses, dreams and fears. I believe that in every teacher there is a Dinglewot. As teachers we all want the best for the children we teach. We can be those figures in their lives that give them that little push to find the confidence to try new things and to help bring them out of their comfort zones. Everyone has their safe space, their own little brown hut, but venturing out doesn't mean we can't return to it. It just means that we can explore more of what the world has to offer.

Have you always wanted to write a book for children?

From the time I was little I have always wanted to write a book and have it published so this really is a dream come true! I have always had a particular interest in poetry. It was an area, at school, that I felt came easily to me in comparison to other subjects. When studying English Literature at A-Level and university the part that I looked forward to the most was reading poetry. I loved the way that a short string of words could be so powerful. I always wanted The Sloth and the Dinglewot to be a rhyming book for children. I first thought about becoming an author when I was around nine years old. I didn't know when or how it would happen, but I knew one day I would make it happen somehow!

What was the experience of writing the book like?

Writing this book truly gave me so much joy. I came up with the name of the story first. I knew I wanted two completely contrasting characters! After that, I don't know what came over me, I just felt compelled to write! I would write for hours at a time. During the editing process, it would take a little longer to alter things, as you have to keep within the rhyme scheme and maintain the rhyme itself, but even that part of the experience was so enjoyable. I had such a clear idea in my head of what I wanted Samuel to experience. I could see it all playing out like a little movie in my head! Finding a way to squeeze that all into words was a challenge, but an incredibly enjoyable one. Sitting down to write it was something I always looked forward to.

Do you have any kind of routine when you're writing?

In all honesty I had no routine. Before I was in contact with New Frontier Publishing, I would just have moments where I really wanted to write, and I did! When I feel that excitement about an idea, I don't usually hold off; I start writing that day, or if I'm able to, in that moment. I jot down ideas all the time; no matter where I am! Sometimes I'll be out and about and an idea or a rhyme will pop into my head. I always save it in my phone or scribble it down. When I signed the contract with New Frontier and the editing process began, I would come home from work and find myself writing into the night! When I think back to those nights, I don't ever recall feeling tired. I felt so grateful for this opportunity and it really motivated me to keep going with it so we could reach a final draft.

What was your reaction when you first saw Amanda Enright's illustrations?

One of the first illustrations I saw from Amanda was Samuel. It felt so surreal that an illustrator had drawn one of the characters I'd written about and I fell in love with him straight away. She had brought Samuel to life. When I saw the book as a whole for the first time, I was speechless. I had spent so long imagining these scenes in my head as I wrote them and to see the words and illustrations finally come together was wonderful moment for me that I'll never forget. Her style of illustration is wonderful. She really captured the story so beautifully.

What sort of books did you like to read as a child?

Growing up, I absolutely adored The Cat In The Hat by Dr Seuss. I loved the way it rhymed. Each verse was so playful and fun to read! Another book that I really enjoyed was Alice in Wonderland. It's one of those stories that is so fun to imagine as you're reading it! There's such a range of weird and wonderful characters and Alice visits so many bizarre places. It really is iconic! A Series of Unfortunate Events was also a favourite. These books had a slightly darker sense of humour and were filled with mystery! I thought the way the stories came together was really clever.

My all time favourite series of books was, and still is, the Harry Potter series. I have really fond memories of reading them with my dad when I was little. He used to read a chapter or two to me each night and I would always be left in suspense! It came to a point where I couldn't take the suspense any longer so I started to read them whenever I could!

I can't leave this question without mentioning my fondness of the books written by Roald Dahl. I could never get through them without laughing! George's Marvellous Medicine was one of the first books that really made me giggle out loud!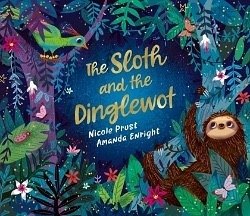 The Sloth and the Dinglewot
When Samuel the Sloth feels brave enough to leave his cosy hut, he meets the mysterious Dinglewot.
Together they discover incredible places, and Samuel will learn that overcoming fears and doubts means more adventures, friendships and happiness.
find out more
---
Comments (0)
No comments have been submitted yet.
Why not be the first to send us your thoughts
Leave A Comment


Thank you for your comments, they will appear shortly once approved.