Seal Child and Life's Toughest Challenges
October 15th, 2021
Author of Seal Child, Robert Vescio, talks about the inspiration behind his most recent book and tough challenges life presents like immigration.

---
Seal Child
is a story that reminds us to never give up hope when all is lost. It's the perfect story to discuss life's toughest challenges whether it be a big move, long-distance separation, migration, natural disasters or displacement.
Seal Child
is a story about loss and survival. It shows the highs and lows of a child's journey trying to find her family and a place to call home again. Along the way she finds a baby seal, alone and lost as well, and the pair soon become friends.
I am the son of migrant parents. My father and mother came to Australia from Italy in the late '50s. Here, they both met and married. I can only imagine how hard and challenging it must have been for them to leave their home after the war and settle and adapt to a new country, a new language and a new lifestyle.
The motivation for this story derives from a strong desire to keep their stories alive and for the many other migrants who have made the journey to find peace and start a new future elsewhere.
Immigration is a vital feature of Australia's history and national identity. These journeys were accompanied by feelings of sadness, excitement, fear and hope.
Just like what we are seeing at the moment in Afghanistan, I hope this story will help children talk about the different reasons people are forced to flee. Sometimes life becomes so frightening or dangerous due to war, poverty, violence or natural disaster and that is why families have no choice but to leave and build new lives elsewhere.
Stories like
Seal Child
can help build awareness and admiration and have a greater understanding of the many different paths people follow.
Australia's distance from the rest of the world can sometimes make it feel like we live in our own bubble. It can make it tough to imagine what people are experiencing so far away.
Seal Child
will help kids to talk about what's happening and provide more clarity.
My aim when I write picture books is to invite the reader to discover what it's like being someone completely different. Stories help us do that, because they invite us to explore. Whether they are set in real or fantastic worlds, they encourage us to imagine being someone else.
Anna Pignataro's stunning illustrations are perfectly rendered and capture the emotions of love, loss, pain and joy that exude from the story. The spreads have an energy about them and the movement is so fluid and varied throughout the story, like the water. It's the perfect backdrop to the story and the result is a beautiful picture book – a modern day classic.
Thank you Robert for sharing this important blog piece with us!
Get yourself a copy of Seal Child here!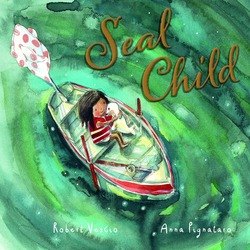 Seal Child
While a child searches for a place to call home, she is befriended by a seal. This lyrical tale is one of hope and friendship. Illustrator Anna Pignataro has captured the drama of the sea and sky, creating the perfect backdrop to Robert Vescio's enchanting story.
PURCHASE HERE
Tags:
behind the scenes
,
picture book
,
children's book
---
Comments (0)
No comments have been submitted yet.
Why not be the first to send us your thoughts
Leave A Comment


Thank you for your comments, they will appear shortly once approved.