Vikki Conley's inspiration behind Little Puggle's Song
September 16th, 2019
Inspired by Nature

Vikki Conley's inspiration behind her book Little Puggle's Song.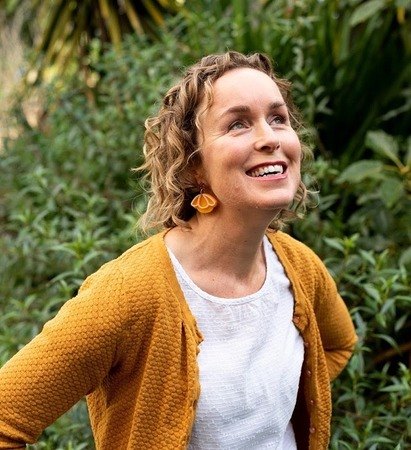 When I was little, my grandmother would take me deep into the Australian bush searching for orchids.
Tip-toe. Tip-toe.
Along the sandy tracks. Up over the mossy edges. Past the grass trees with skirts that swayed in the wind, and kangaroo tails that stretched to the sky, humming with bees.
kangaroo tail flower of the grass tree


Then we'd spot one! A tiny nodding green hood, or a spider orchid. The beard orchid and the flying duck orchid were my favourites. They were also the rarest. I would giggle at their names. I would be surprised at how each specimen looked exactly, and perfectly, like their namesake.


a tall greenhood orchid – both found on our last 'orchid hunt' with my children.

The orchids' vibrant purples would enchant me. The colors reminded me of Lilly Pilly's dress from Snugglepot and Cuddle Pie. It reminded me of my grandmother's paint palette —Winsor Violet — and all her other pigments that danced like fairies in my mind — magenta, vermillion, cobalt blue. Granny was a watercolor artist. Her tiny brushstrokes created the most delicate replicas of Australian orchids and wildflowers.

As we inspected the purple beard and flying duck, we'd whisper to each other. "Don't scare away the fairies." The bush fairies lived in the tiny homes that we'd etched out along the mossy walls of the track.

When I was big enough to carry a backpack (with only a sleeping bag inside), my father would take us on adventures. We'd hike up into the mountains of the Victorian alpine country. We'd pitch our tent among masses of flowering native twining glycine. Again, purple, bursting with life and colour, surrounded me as I slept to the lullaby of trickling mountain streams.


Twining Glycine - Image credits Creator:L. L. 24/12/2010 Information extracted from IPTC Photo Metadata
A memory that is imprinted in my mind (and soul) is the view from the highest peak of King Billy's Bluff. It is called Hell's Window, but the view from there is nothing like its name suggests. Wildflowers tumble down the mountain plain, like a giant's hand has cast millions of blooms into the air. As far as a seven-year old's eye can see, there is only flowers and sky.

This scene has become my 'soul landscape'. I visualise its beauty (and in my mind I 'go to this place') in times of pain or sadness. My childhood was embedded in the natural world. It now runs thick in my blood.

Today I share my love of the natural world with my two young children and my husband. We camp and visit the same bower bird every year, offering blue trinkets for him to add to his nest. We climb mountains and stand in awe at the top. I've even started planning a return trip to Hell's Window.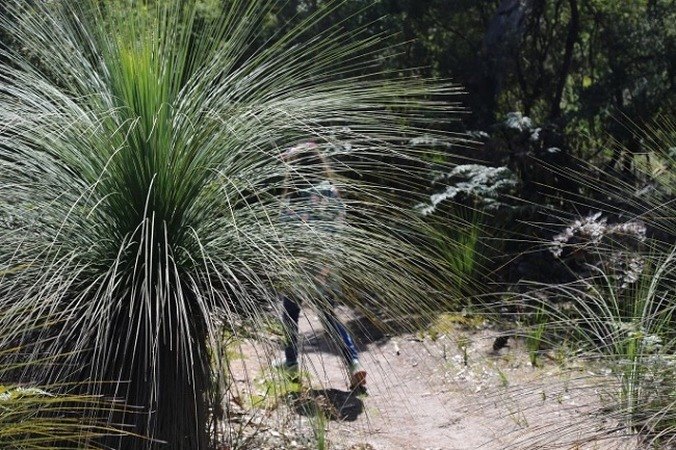 my daughter walking past a grass tree.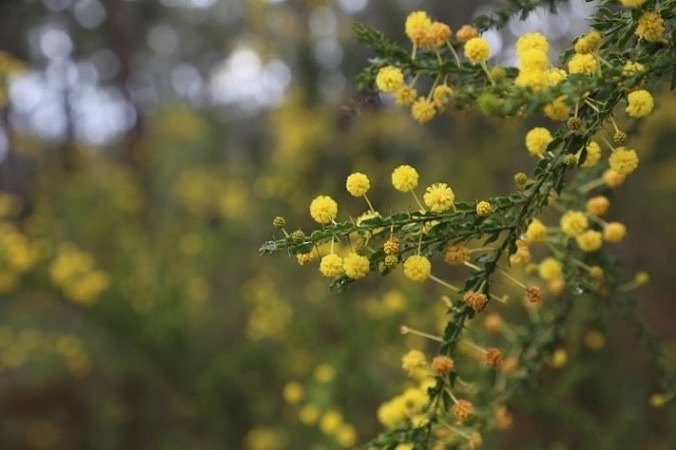 Yellow wattle in flower – inspired the "wattle pom poms" in the Puggle text. These are taken in the National Park that is next to my childhood farm.


We often stay on the farm where I grew up in South Gippsland, Victoria. It is nestled among national parks, rainforests and the sea. My father shares stories – accumulated over three generations – of dogs lost at sea, snoring koalas and possums in toilets!

My connection to nature has inspired my writing and my life. It has also guided lifestyle and parenting choices. I've heard there's actually now a therapy called 'forest bathing', which is popular in Japan. I think as I walk through the gumtrees, along the rivers near my home each week, that must be what draws me there again and again – the power of those trees, and their energy that 'washes' over me.

And the color purple? When I discovered Helene Magisson had chosen ultramarine violet for the cover of Little Puggle's Song, I knew it was a match made in heaven!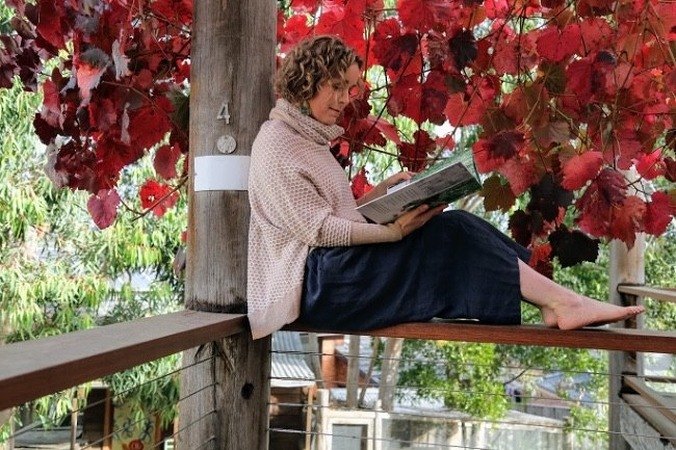 My home in Eltham, which is surrounded by trees and overlooks nearby rivers.


Little Puggle's Song
A lonely echidna searches for his voice. Every time Puggle tries to make sound nothing comes out. Can Puggle find his voice and join the bush choir?
find out more
---
Comments (0)
No comments have been submitted yet.
Why not be the first to send us your thoughts
Leave A Comment


Thank you for your comments, they will appear shortly once approved.